Please welcome, Ed Smith!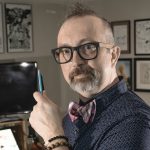 A New England born and raised cartoonist, who grew up watching and learning the finer points of comic books and cartoons. He grew up to earn a background in illustrating and production for just about any method and media, while still keeping his interests rooted in comic books and cartoons.
His work has been produced and published in several local and national magazines, as well as used in many marketing campaigns for several international and global companies.
His work can be seen in the upcoming Sourcepoint Press book; 2nd Place. He is working on various covers for Saturday Night Comics' upcoming Horror Series and was the interior artist for Silent Mayhem's Hellpug and Velocicock, as well as their collectible card game Hellbringers. 
He is still drawing Rich Woodall's The Life and Times of the Supertopian, as well as developing his own projects that are sure to impress and excite.
Posted September 1, 2021 in: Event by granitecon
---
UP