Calm Passion
Calm Passion provides a safe, sensory appropriate area at Granite State Comicon for anyone who feels overwhelmed or overstimulated. This Calm Space has activities, art, and reading materials for those who may need some stimulation in order to regulate themselves, relax, and reset. Our team will also be on hand to help insure that everyone feels ready to go back out and enjoy the rest of their day at the event!
The room is FREE to all Granitecon attendees. Sat & Sun 10am – 5pm
Our team is all about providing access to great events for those who might not be able to attend otherwise due to things like sensory concerns and anxiety, and we have worked with great organizations like Best Buddies, Autism Speaks, The Doug Flutie Foundation, and HMEA's Autism Resource Central. Our newest outreach initiative is our Calmer Spaces program, in which we manage sensory appropriate areas at other conventions to give folks a place to relax and recharge if they become overwhelmed or overstimulated while attending an event. This gives them an opportunity to rejoin the fun when they feel able to once again do so. We are going to have many of these spaces this Fall at great Events like Granite State Comicon, Rhode Island Comic Con, and Kids Con in Portland, ME.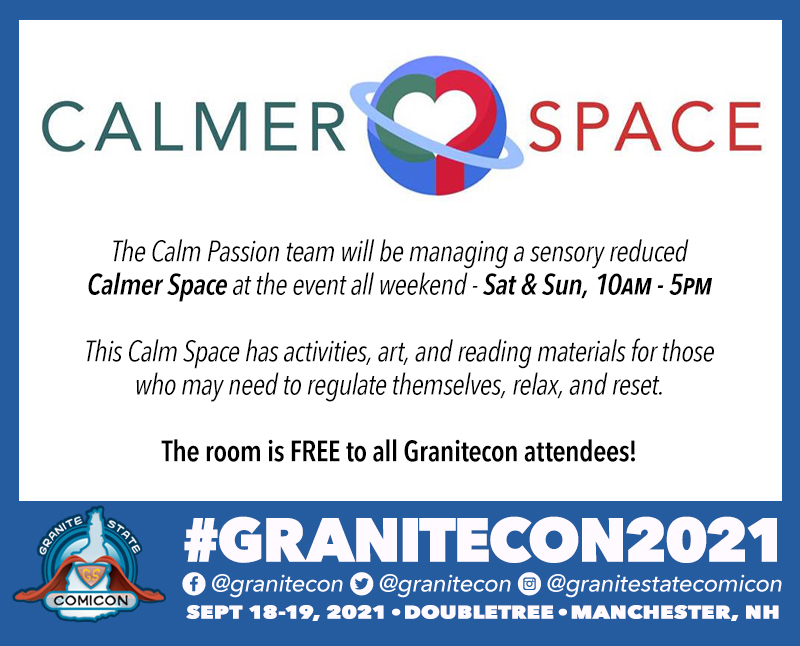 ---
Related Sessions
UP