Mark Pinksten
Mark Pinksten's Comic Pop Culture Magician shows have been a staple during the last six years at Granitecon.  This year to celebrate the 20th Anniversary of Granitecon, he brings the best of six years of shows at Granitecon, where he will perform as multiple pop culture characters.
The Original Comedy Pop Culture Show with Dr Who and the Tardis, Dr Emmett Brown, Indiana Jones, The Shark from Jaws and the Slightly Evil Dead is back!
The Magic of Newt, A Harry Potter/Fantastic Beast show is back with the performing things inspired by the movies and books.  Audience members will perform magic!
The Magic of Loki is back after debuting last year with the infamous President Loki holding a campaign stop in NH with pointy objects and cubes!
About Mark
Mark has been a comedian and magician for over 20 years.  He was performed over 300 shows at over 90 comic cons in the last six years. He appears as a featured cosplayer at many events and cons, and he hosts a cosplay interview show on his YouTube channel: Carnivals of Adventure and Magic. His website is www.comedypopculture.com
Granitecon 2022 Schedule:
Friday
5:00 Original Comedy Pop Culture show with Dr Who, Doc Brown,Indiana Jones Shark from Jaws
Saturday
11:30am Original Comedy Pop Culture show with Dr Who, Doc Brown,Indiana Jones Shark from Jaws
2:30 The Magic of newt. Potter/ Fantastic Beast Magic
5:00 The Magic of Loki. Campaign stop for President Loki. Magic with cubes and pointy things
Sunday
11:30 Original Comedy Pop Culture show with Dr Who, Doc Brown,Indiana Jones Shark from Jaws
2:30 the Magic of newt. Potter/ Fantastic Beast Magic
4:30 The Magic of Loki. Campaign stop for President Loki. Magic with cubes and pointy things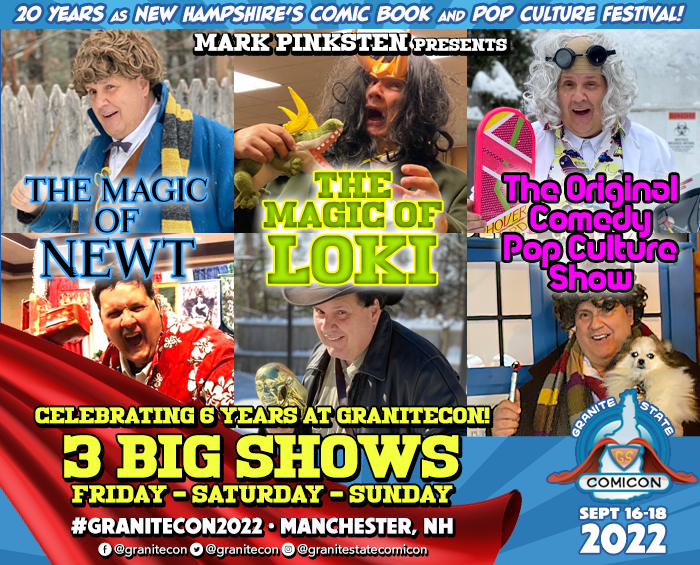 ---
Related Sessions
UP