Chris Ivy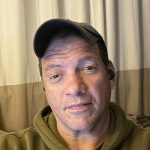 Christopher Ivy's career in the comic industry started at Marvel Comics, right after graduating from Parsons School of Design in New York City. After a year working on staff in their art dept. for art directors John Romita and Don Perlin in the Marvel Bullpen, he started freelance work as penciler, inker and colorist–but he's most known for his inking runs on such titles as Daredevil, Cage, Avengers, Alpha Flight, Ghost Rider, Hulk, Marc Spector: Moon Knight, Marvel Comics Presents, Hulk 2099, Cloak & Dagger, Punisher, Wolverine, X-Men and Spider-Man, amongst others.
Eventually his inking credits expanded to work for virtually every other comics publisher and includes work on comic books for DC Comics (Sovereign Seven, Flash, JLA, Beast Boy, Young Justice, Titans, Wonder Girls and Superman), Image Comics (Shadowhawk, Supreme, Grifter, Image Swimsuit Special #1, various Image Character Trading Cards),Valiant Comics (Bloodshot, H.A.R.D.Corps) and Dark Horse Comics (Aliens vs. Predator, Aliens vs. Predator vs. Terminator, Terminator-The Dark Years, Star Wars: Bounty Hunters-Kenix Kil, Planet of the Apes.)
Most recently, along with a critically-acclaimed inking run at IDW (GI Joe-Cobra Civil War, with Javier Saltares), inking projects at Dynamite Entertainment (Army of Darkness, Cryptozoic Man—which was featured in the AMC series Comicbook Men) added to his resume, he's done inking work for Kingstone Comics (The Kingstone Bible-Vol.3, The Apostle), Lions Forge (Dinosaucers) and coloring work for the 100+ page Kickstarter/Indiegogo hit, Liberty Brigade, a homage to classic Golden-age comic characters fighting during World War II.
Ivy hails from Kansas but, having parents in the military, has lived all over the US as well as abroad in the UK and Germany. He now resides in the northeast.
---
Related Sessions
UP